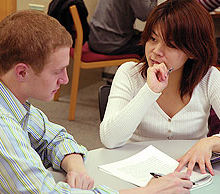 Teaching & Learning Center
The Teaching & Learning Center (TLC) at Temple University, Japan Campus offers free peer-tutoring services in a variety of subjects.
Tutoring is an opportunity for students to
discuss their work
get support for assignments
learn to integrate instructor feedback
ask questions
brainstorm ideas
practice and apply skills
develop academic aptitude
These sessions are led by trained TUJ students who have demonstrated proficiency in their respective disciplines. 
Tutoring is primarily conducted through Zoom. Depending on the subject, students can meet one-to-one with tutors or attend group drop-in sessions. There is also an option for students to receive tutor feedback on drafts of writing assignments.
To learn about tutoring options for each semester, visit the TUJ Tutoring Services site.  New Tab
To make an appointment for a tutoring session, visit our the TUJ Tutoring Bookings page. New Tab
To request written feedback on an academic writing assignment, visit our Submissions page New Tab and follow the prompt to "enroll in course" for further instructions.
For subjects not available for tutoring at TUJ, students can also access tutoring services offered by the Student Success Center New Tab at Temple University's campus in Philadelphia. 
For more information about writing support and tutoring for TUJ students, contact the Teaching & Learning Center at TUJTutoring@tuj.temple.edu.
TUJ hires tutors every semester. Please refer to the Student Worker Job Listings New Tab for available openings.
Teaching & Learning Center
E-mail: TUJTutoring@tuj.temple.edu
Hours: Tutoring is typically available Monday - Friday between 9:00am - 5:30pm. Tutoring is not offered on national holidays and undergraduate holidays.