Upcoming Events
We are currently planning our next events. Please check back soon for future updates.
Past Events
November 6th:
New Campus Opening Celebration
Formal Ribbon-cutting and Kagamiwari
Honorary Degree Conferral
Evening Reception (invitation only and registration required)
November 7th:
Community Day Festival
American-style festival for the local community. Join us for a day of food, games, and fun! All are welcome and no registration required.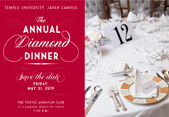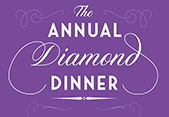 Saturday, October 21, 2017
"Developing a Successful Overseas Branch Campus: TUJ Yesterday, Today and Tomorrow"
Organized on the occasion of the 35th Anniversary of Temple University, Japan Campus, the symposium examined the history, mission and academic vision behind the creation of a successful and thriving American institution of higher education in Japan. The cultural, institutional, and political hurdles TUJ overcame to build an American university campus with full undergraduate and graduate degree programs, and the institutional strengths and strategies that led to its success. The event also considered the impact of TUJ on Japanese institutions of higher education, its role in the internationalization of Temple University's main campus, and its strategy for the future.
This event was held on the Campus of Showa Woman's University New Tab.
Diamond Dinner 2014
Friday, June 7, 2014
---
Diamond Dinner 2013
Friday, June 8, 2013
---
TUJ Diamond Club Annual Dinner 2012
Saturday, June 2, 2012
---
TUJ Diamond Club Annual Dinner 2011
Saturday, June 4, 2011
---
TUJ Diamond Club Anniversary Dinner
Saturday, June 5, 2010
Contact Us
Please contact Institutional Advancement for more information or if you have further questions.
Institutional Advancement
Email:

Tel:

03-5441-9800