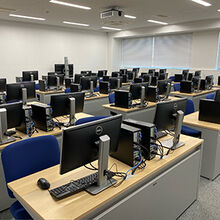 Information Technology Services
Information Technology Services (ITS) is composed to two teams. Our IT Operations team which provides front line technical support, manages the in-classroom technology and our computer labs. Our Administrative Systems team support TUJ's administrative systems.
The TUJ computer labs boast over 120 Windows and Mac computers with the latest Office 365 and Adobe applications plus other specialized software. The Campus-wide wireless network provides everyone a high speed secure access to the internet from any device.