Established in Tokyo in June 1982 as the Japan campus of Temple University, a U.S.-based comprehensive public research university located in Pennsylvania.
Designated a Foreign University, Japan Campus by the Ministry of Education, Culture, Sports, Science and Technology in February 2005.
Average Undergraduate Class Size:
19 students
Print-Friendly Version in PDF Format
Note:  The numbers stated here represent the highest enrollment for each program out of the three semesters during 2020 unless otherwise noted.
Number of Faculty and Staff
Faculty (Excluding Corporate Education)
Nationality of Students and Faculty
Note:  The data shown below are from At a Glance 2021.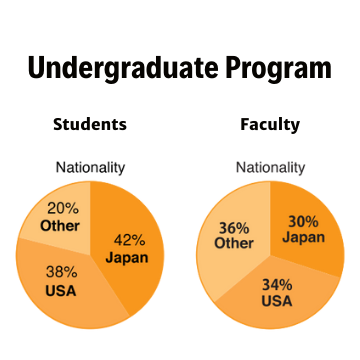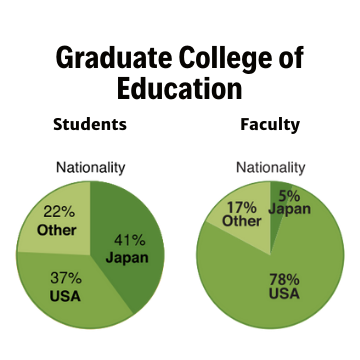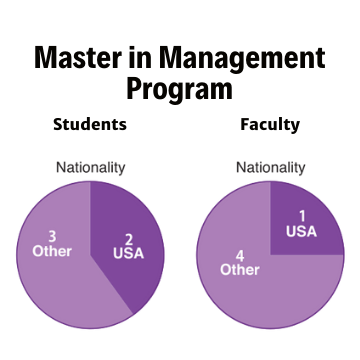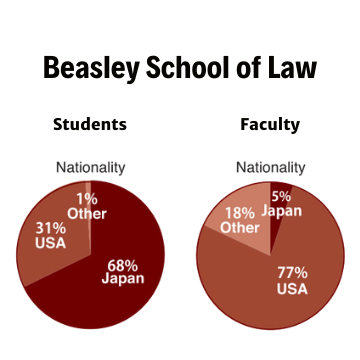 Academic Institutions
| Name of Partner Institutions | Date | Related Links |
| --- | --- | --- |
| Musashi University and Musashi Senior & Junior High School (Japan) | April 2009 | Arrow-MediumNews New Tab |
| Miyagi University (Japan) | December 2013 | Arrow-MediumNews New Tab |
| Hong Kong Baptist University (Hong Kong), School of Communication | April 2014 | Arrow-MediumPress Release New Tab |
| Toyo University (Japan), Faculty of Global and Regional Studies and Faculty of International Tourism Management (formerly Faculty of Regional Development Studies) | April 2014 | Arrow-MediumNews New Tab |
| Meiji University (Japan), School of Arts and Letters | May 2014 | Arrow-MediumNews New Tab |
| National Taipei University (Taiwan) | May 2014 | Arrow-MediumNews New Tab |
| Showa Women's University (Japan) | June 2016 | Arrow-MediumNews New Tab |