Spaces for study or collaboration are available for TUJ students during TUJ building hours.
Reservable Study Spaces
---
Several study spaces are available on a reservation basis in the TUJ building and at Showa Women's University.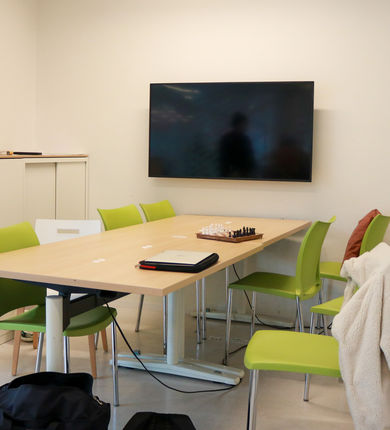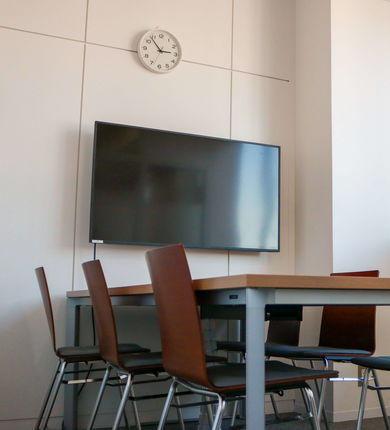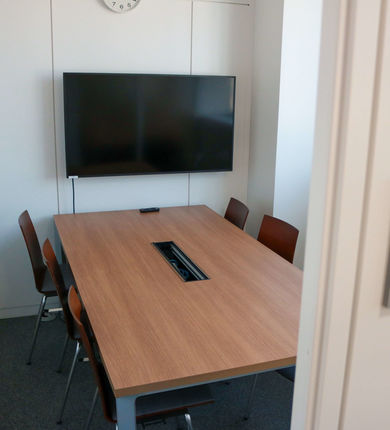 TUJ Group Study Rooms
You can make reservations in advance, or when you are seeking to use a room. 
First Floor: Rooms 110A and 110C
Second Floor: Rooms 210A, 210B, 210C, 210D, 210E, 210F
Sixth Floor: Rooms 606B, 606C, 606D, and 606E
*You will need your TUID and temple.edu email address to reserve.
Reserve Now
---
OPEN STUDY SPACES
---
Several open study spaces are available without reservation required. 
FIRST FLOOR
Parliament | Cafeteria | Art Gallery | Stairway Reading Nook | Lounge in front of the Information Center | Outdoor picnic tables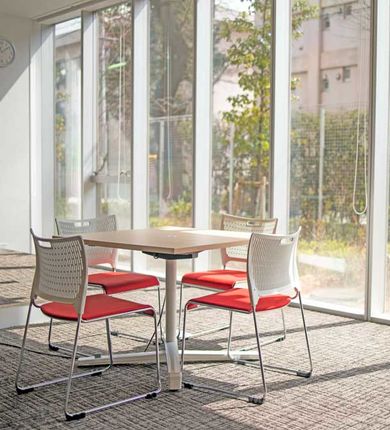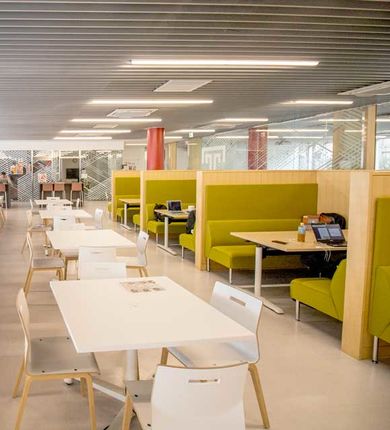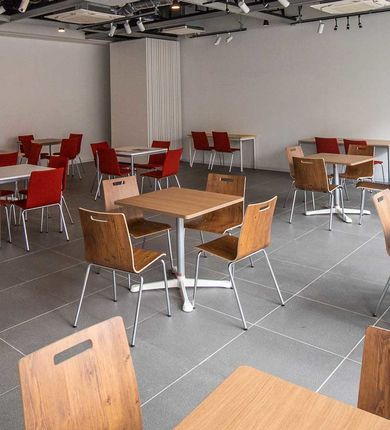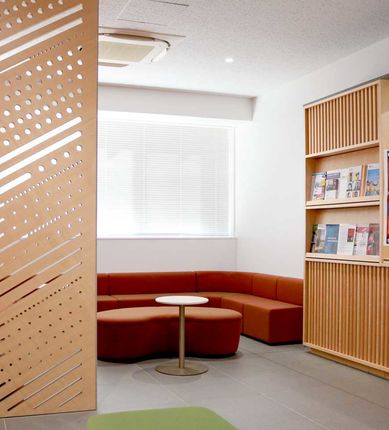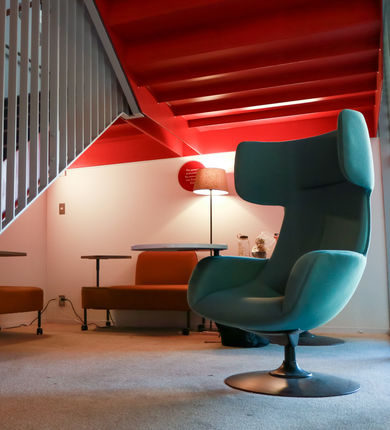 SECOND FLOOR
Library tables and study carrels| Study room across from Art Studios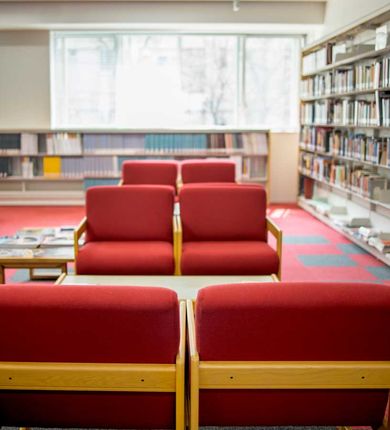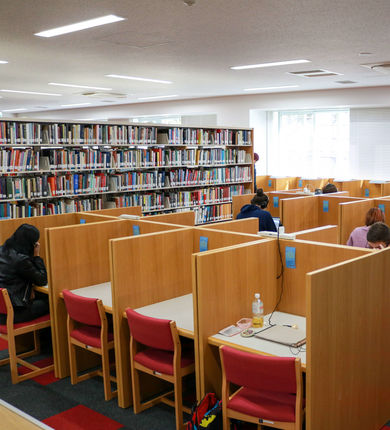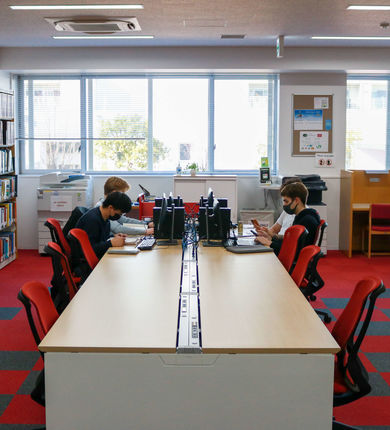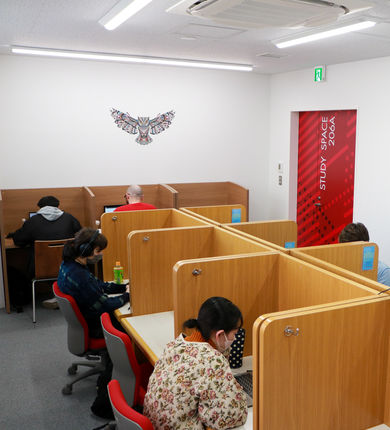 FIFTH AND SIXTH FLOOR
Room 501 open computer lab | 6F Outdoor patio study area | Room 606 study tables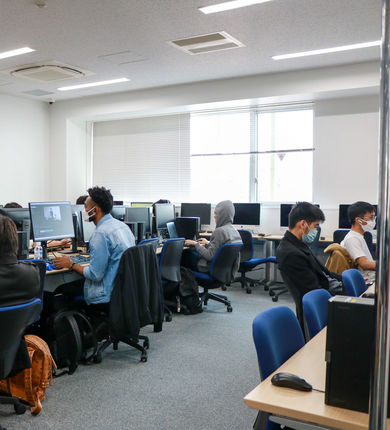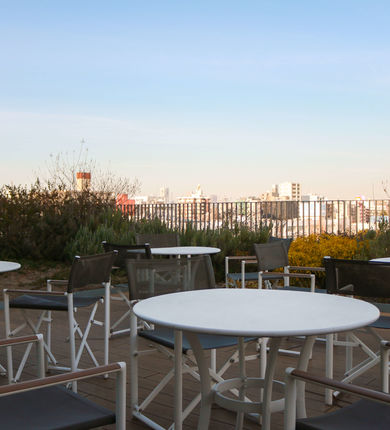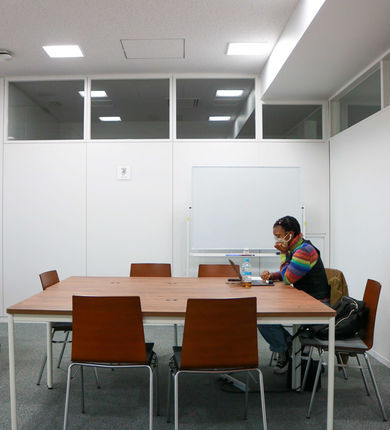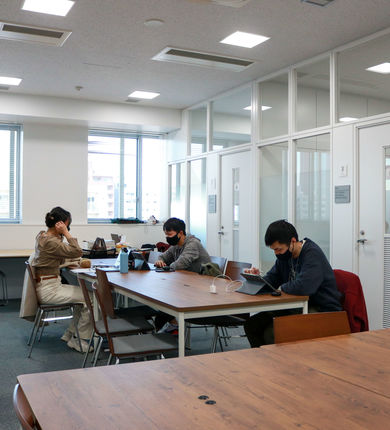 OWL-COVES
Owl-coves are two-person seating nooks located on the 3rd – 6th floors of the TUJ building across from the elevators. 
---
VACANT CLASSROOMS
If you are looking for a place to study and notice an empty classroom on floors 2-6, please feel free to use it until the next class starts coming in. To make it easier to identify empty classrooms, we will be posting space availability on the digital signboards soon.
---
SHOWA WOMEN'S UNIVERSITY
We invite you to respectfully use facilities at Showa Women's University (SWU) – especially if you are searching for a spot to study or eat during peak times on our campus.
Showa Digital Square Lounge
Check out a "Passport" from the TUJ Library that enable you to use the two study lounges -- one quiet lounge and one collaborative lounge -- on the first floor of the Showa Women's University side of our main building (adjacent to our Cafeteria). These lounges are available to TUJ students from 1:00 to 6:00 pm so long as you have one of the passports. Please make sure that you follow the rules of use for this space.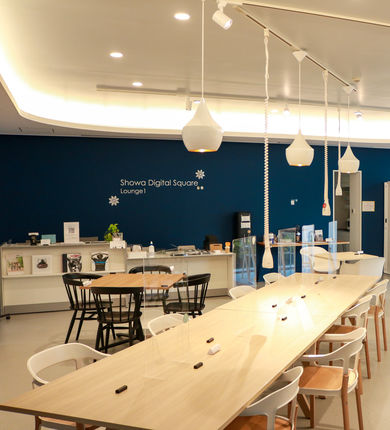 ---
OTHER SPACES AT SHOWA CAMPUS
You can enter the SWU main campus either the front gate or south gate of SWU with your student ID.  The south gate is located about a 30 second walk away from our gym/pool building.
Outdoor seating. Please feel free to respectfully use any of the outdoor seating areas on SWU's main campus.
Other study areas. You are welcome to use the areas in Building #8 (marked as 19 on the map).
Lunch in the Showa Cafeteria. Of note, you can purchase lunch at the Sofia Cafeteria in Building #14 during the times listed below (essentially 10:00 am-3:00 pm, but not during the 12:00-13:30 time slot)
---
OTHER SPACES AT TUJ
---
WEIGHT ROOM
A small weight room is available for TUJ students on the 2nd floor, room 203.  Four students may use the room at a time.  Make your reservation online for a spot. 
*You will need your TUID and temple.edu email address.
---
PRAYER ROOM
For students who need a space to pray, a prayer room is available on the 6th floor, room 605. No reservation required.
---
SICK ROOM
If you are not feeling well, the Information Center (IC) staff on the 1st floor can provide access to our sick room where you can lie down.  This room is only for students who are suddenly not feeling well.
---
Some additional spaces may be reserved for special receptions, formal events, and other programs. For more information, please contact Facilities at facilities@tuj.temple.edu.