Why Hire TUJ Graduates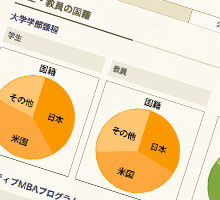 There are many good reasons to hire a TUJ graduate. Here are just a few of the key advantages a company will gain in hiring TUJ graduates:
The majority of TUJ students are bilingual with bicultural skills
Academic programs are centered around teaching our students to think logically and creatively in practical work environments
TUJ students are a diverse group with representation from approximately 60 different countries and regions
TUJ students learn how to become key players in the global society
Advantages of hiring a TUJ graduate
The advantages of hiring a TUJ graduate extends beyond the language skills and the diversity of the students' backgrounds. TUJ focuses its academic programs around students applying the knowledge they learn to practical working environments. As an example, the Undergraduate Program offers 10 majors, and 2 of the majors require students to have an internship practicum in order to receive a bachelor's degree. 
The Career Development Office helps companies fill job openings through job placement, internships and career fairs. Please read the following information on posting a job and on how your organization can participate in a TUJ career fair.
Arrow-Medium Student Recruiting
Arrow-Medium Internship Program
Arrow-Medium Career Fair
Arrow-Medium Company Information Session
About TUJ
Temple University, Japan Campus (TUJ) is the oldest and largest foreign university in Japan. Founded in 1982, TUJ has developed into a nationally recognized institution offering an extensive range of educational programs. In addition to its core Undergraduate Program, TUJ offers Graduate programs in Law, Business, and Education; an English-language preparation program; Continuing Education courses; and Corporate Education classes.