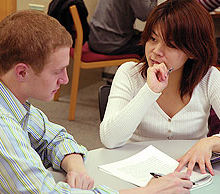 Teaching & Learning Center
The Teaching & Learning Center (TLC) at Temple University, Japan Campus offers free tutoring for students in a variety of subjects.
All tutoring is offered online either through TUmail or Zoom.  Students in any TUJ program may email drafts of writing assignments for feedback or attend live tutoring sessions on Zoom in  key subjects.  TUJ students can also use the online writing support and tutoring services offered by Temple University main campus in Philadelphia. 
For more information about writing support and tutoring for TUJ students, contact Teaching & Learning Center at tujtutoring@tuj.temple.edu.
Arrow-MediumResources
Want an interesting and challenging job at TUJ? The TLC hires tutors every semester. Go to the Student Worker Job Listings web page to see if there are any current openings.
Contact Us
For comments and questions, contact Teaching & Learning Center at TUJtutoring@tuj.temple.edu.
Hours: Tutoring is typically available Monday - Friday between 9:00am - 5:30pm.  Tutoring is not offered on national holidays and undergraduate holidays.