Dr. Martin Voelkl, General Manager of Human Resources at Audi Japan on TUJ interns: "They adapt very well to our internal company culture. They like to be challenged and to be proactive. That's what we are looking for."
Interview Transcript
My name is Martin Voelkl. I am in charge of HR for Audi Japan, which is the national sales company of Audi in the Japanese market. We have started the internship program in 2012. The colleagues from the headquarters, especially from Europe, they are very used to interns as the added value to their department. So we started with collaborations with universities in 2012.
What experience is required?
They basically don't have to have any work experience in the automotive industry. But of course it helps if they are interested in the automotive industry, and if they are interested in premium goods, because we are selling a premium product here in Japan. So if they are interested in working around this environment, in premium industry, respectively in car industry, this definitely helps.
What about language skills?
Bilingual students are most welcome because we have obviously a lot of Japanese co-workers. But we are also collaborating with our regional office and other departments in our headquarter, so English is a must.
What do you expect from TUJ interns?
Temple is one of the best universities in Tokyo, in Japan and we appreciate that you have international-oriented students. So we usually don't have to teach them if they come to an international company that the environment is quite different from a typical domestic Japanese company. So they adapt very well to our internal company culture. And they like to be challenged and to be proactive. And that's what we are looking for.
What is your assessment of TUJ interns?
I would say they are very committed. If we assign a project to them, they really want to work on it. And they don't mind to stay longer in the evening or to even take some overtime because they want to finish their project. I think it's also because we make them responsible for a project. After a while, and after we see that they are capable, we really treat them like regular employees. So we delegate responsibility to them. And they appreciate this responsibility to be able to contribute to the whole team and the whole result of the company.
How do you select interns?
So when we interview interns, usually we don't go that deep into their experiences and professional background because usually they don't have so much. So what we try to find out is what is their motivators and what do they want to work in the future on and what means fun for them. We try to find out their strengths and weaknesses and if these strengths basically fit to what we are looking for the position.
So, for example, if we are looking for somebody in controlling, and an intern candidate is very strong in analytics and very strong in mathematics, then, this possibly fits. So we try to find out if these skills fit with our requirements, and then, basically and I think most important is if the personality of the intern fits to our company culture, which is an open culture, a very westernized culture even though we are here in Japan. So that we can, as I mentioned before, foster them to bring up their minds and bring up their opinions and share their ideas without being threatened by any cultural background.
How do interns contribute?
Marketing, especially digital marketing, is a very fast moving environment. And even though people in the marketing department are quite young in age, they still want to have this fresh look from people who are even maybe not yet having their own driver's license, but are the future customers and how they observe our industry and how they observe our approach let's say in digital media or in advertisement. So our current intern who is from Temple, he participated in the recent launch of the new TT, and he could give some input from his prospective how this campaign would appear for the young customers.
Career opportunities at Audi?
We have started with our new grad's program from this year and selected two bilingual students for our new grads program, which is an international program. Apart from this, we have already hired several also of our former interns directly onto permanent positions in the company, of course, which is an entry position but this gives them the best opportunity to grow their career within the company.
Since we are an international company, our training program also allows them to go on a six month assignment to the headquarters in Germany to learn also the perspectives from the headquarters and to start networking in this early stage already with the relevant departments and people in the headquarters. I think this international opportunity is very attractive for the international-oriented new grads.
Message to students
If the students are interested in the automotive industry, if they want to work proactively, which means they want to take over responsibility for their own projects, and they really want to learn how international business works in Japan, we are very happy to receive their applications. We offer internships in all departments, from back office departments as controlling or HR into marketing, sales, and after sales departments. And finally even Lamborghini, our super sports car division, is offering a general internship in their department.
Interview date: Tuesday, October 20, 2015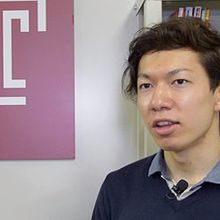 Read Stories Of Students Who Interned Here
Interns are treated in the same way as an employee at Audi Japan, so I had a great responsibility."
Read Other Company Interviews