TUJ's Japanese Language major is a unique program designed to offer a comprehensive Japanese language curriculum in a JSL (Japanese as a Second Language) setting. It aims to achieve advanced and well-balanced proficiency in Japanese so that students will, by using the Japanese language as a communication tool, be active social agents to make contributions in the world of globalization.
Notes:
Native speakers of Japanese are not permitted to pursue the Japanese major.
Transfer students intending to major in Japanese should also refer to the information on the Visa Regulations for TUJ-sponsored visa students.
Japanese Major Advisor
Coordinator of Japanese and Critical Languages Program
Note: This interview took place in July 2017.
Student Interviews
Student Voice
Valerie Holland
American
Graduated from South Mecklenburg High School in North Carolina, USA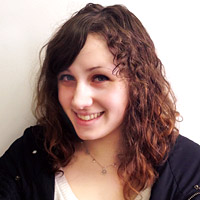 I first learned about TUJ when a recruiter came to my high school Japanese class. After I visited Japan on a two-week scholarship program, I realized Japan was where I wanted to be. TUJ became my answer to a dream. I love the fact the even though TUJ is in Japan, it is an American university. It has been a goal of mine to become an English/Japanese translator. Knowing about many subjects will help me as a translator. I plan to become fluent in Japanese and learn many more subjects before I leave TUJ so that I can have a good chance of succeeding. TUJ has become a step to reach my dream career, and I am looking forward to my education here.