Embraces a variety of disciplines from Temple's highly ranked Klein College of Media and Communication, including media studies, production, advertising, journalism, and rhetoric. The major has a Production Track with an emphasis in visual or audio production. To develop as professionals, students may undertake an optional internship from a variety of related fields.
Advisor and Coordinator of Communication Studies major
Our Communication Studies program takes an interdepartmental approach.

For example, students who have an interest in filmmaking can study videography, editing and sound. Those with an interest in journalism can work in magazine writing, the online space and broadcasting. Our goal is to develop students intellectually and prepare them for professional-level competency in media.

Being in Tokyo is superior for internships, given the international reach of both Japanese and foreign media. Over the years, our students have received internships at many foreign bureaus, public relations and advertising companies, and startup internet firms.
Student Interviews
Student Voice
Delilah Joy Romasanta
American
Graduated from The Pennsylvania Cyber Charter School in Pennsylvania, USA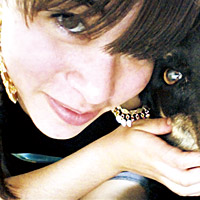 My sister is a senior at Temple, so I knew about Temple's many campuses. I knew I wanted to travel and be in a new environment. Since I've always had an interest in Japanese culture, TUJ seemed like the perfect choice. I originally came with the intention of being a Japanese major, but after hearing about Temple's DBMD (Dual Bachelor's Master's Degree) program, I decided to become a Communication Studies major with a minor in Art and a certificate in Japanese. I am really happy at TUJ. It is a wonderful place to get a great education in a global environment. There are so many teachers and students of various nationalities, which creates a culturally enriching atmosphere. The courses are interesting, too. Many have improved my ability to think critically and analyze more thoroughly, as well as stress the importance of teamwork and networking. These skills will benefit me in any career path I choose. While I am undecided on what I want to do after university, my academic goal is to get accepted into the DBMD program. I also want to participate in a summer session in Rome. I want to make use of all the opportunities TUJ has to offer and enjoy life.