Asian Studies features an interdisciplinary approach to understanding the Asia-Pacific region's fast-growing economies, rapid social change, environmental challenges, regional tensions, and rich cultural traditions. Students may specialize in various disciplines such as international relations, religion, literature, or history. Asian Studies majors must study an East Asian language.
Director of Asian Studies major
Student Interviews
Student Voice
Sally Alcozer
Philippines
Graduated from San Pablo Colleges (high school) in Philippines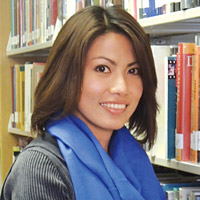 I found TUJ while living in Japan and searching for a global university. While studying at TUJ's Academic English Program, I felt a warm welcome from teachers and staff. What I continue to like most about TUJ is its uniqueness – being able to study in Japan while also exploring opportunities at other Temple campuses. Through the IUT [intra-university transfer] program, I was able to study at Main Campus in Philadelphia in fall 2011, and am planning to return there to graduate with a degree in Asian Studies. I would like to learn more about Asia, specifically Japan, as well as developing Asian countries and their relationships with developed countries such as the U.S., Japan and those in Europe. What I learn about different kinds of people and how to interact with them will undoubtedly help me in my future career. Going forward, I plan to continue my studies and improve my English while also looking for a rewarding job, where I will have opportunities to meet people from around the world. I also plan on continuing with my volunteer work.