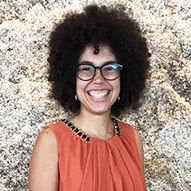 Grace Bellamy
Grace Bellamy
Communications Studies Major
Spring 2017 – Present
I grew up in Forsyth, Georgia and was raised in a middle-class family. After graduating from high school in 2012, I joined the United States Navy, and by December 28 that year I was on a plane to Japan. I served four years on the forward deployed aircraft carrier U.S.S. George Washington (GW) stationed in Yokosuka, Kanagawa. In my three years stationed in Japan, I made friends from all walks of life, and had some amazing adventures. When the GW was to report back to Norfolk for routine maintenance, I was sad and did not want to leave the country I had learned to call "home." After extensive research, I found TUJ and the Communications program where I could study what I dreamed of studying: film production.
When I moved back to Japan in December 2016, I felt like I had come back home. It felt like I was not gone for over a year but was merely away for just a day. Now I live in Yokohama. I am a full-time student, and create short films and meet people and make connections in the production world. TUJ, from staff to students, has helped me grow, and though there is much more to be done before I graduate, my future is going to be bright because of the opportunities given me by TUJ.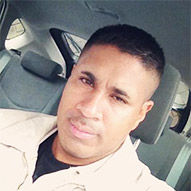 Ciro Bravo
Ciro Bravo
Political Science Major
Fall 2014 – Present
After years of hard work, traveling the world, and deployments to combat zones such as Iraq and Afghanistan, I made the decision that it was time to leave the U.S. Army and retire. After serving two years on Camp Zama, Kanagawa and with retirement orders in hand, I decided to start another chapter of my life here in Japan. When I first arrived in Japan, I instantly fell in love with the country's culture, food, and people. What better way than to experience my first few years as a new civilian but to attend Temple University's Japan campus. Since I enjoy traveling, I have been to almost every major city and attraction Japan has to offer.
Being born and raised in New York City prepared me for life here in Tokyo. So I knew that living in a city such as Tokyo would come easy to me, despite not knowing the language. I started to look for American universities in Japan at my local Education Center and stumbled across a brochure from TUJ. I took the brochure home with me and after careful consideration, I decided that Temple was right for me. I have been a full-time student at Temple University Japan since 2014 and as a recipient of the Post 9/11 GI Bill, I am able to enjoy the amazing benefits it offers veterans and their dependents, including a basic living allowance here in Japan.
As a TUJ undergraduate student, I am able to not only learn from my outstanding professors but I also enjoy my time studying alongside fellow veterans, international and Japanese students. The TUJ faculty have been a tremendous help as I pursue my degree in Political Science. Living in Tokyo can be expensive at times, but the extra money provided through the GI Bill makes living here much easier. I have little to worry about paying for rent, food and utilities, which makes concentrating on my studies much more stress free. Getting out of the military mind frame can be tough at times, but with a little patience and having fellow veterans around to learn from, Temple life can be a very rewarding experience. Remember that you are not alone.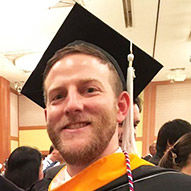 Nate Guild
Nate Guild
International Business Studies
Spring 2013 – Spring 2016
Shortly after getting married in June of 2011, my wife and I decided to move to Tokyo so that I could have a chance to experience her culture firsthand with the intention of staying for about two years. I was attending community college before getting married and was planning to resume my studies when I returned to the States.
After moving to Tokyo I found a job teaching English at a conversation school. This seemed like a perfect opportunity for me to learn about Japan and grasp the mindset of people living in Tokyo. What I didn't expect was that talking to these individuals would inspire me to study while in Japan. I started searching for schools that offered classes in English but could not find any Japanese universities that offered undergraduate programs with an English-speaking curriculum. That is until I did a Google Maps search for schools around my area. I was surprised when the TUJ campus popped up on my map about 25 minutes walking distance from my apartment, so the next day I walked over to the school to see what Temple had to offer.
I was accepted into the spring term of 2013. I chose the International Business Studies program because it offered the most challenging and fitting curriculum to what I wanted to achieve. Over the last three and a half years, I have had some of my most challenging as well as rewarding times thanks to the demanding course work and professors.
During my first year at TUJ, a few of my veteran friends and I decided to start the Veterans Club to promote networking with other veterans and also with companies in Tokyo.
I have learned a lot in my time at TUJ. I have also had some of the most fulfilling experiences of my life while attending this school. Meeting fellow veterans, making friends with students and professors from all over the world, and building a strong foundation in business has made my time at TUJ unforgettable. I have the skills and confidence to do what I want to do.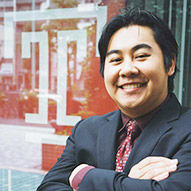 Ted Lee
Ted Lee
Psychological Studies Major
Fall 2016 – Present
At the beginning of 2015 I had been in the Navy for almost seven and a half years. I was stationed in Yokosuka. It was almost time to reenlist or get out of the Navy. I guess you can see which one I decided on.
I contacted the Navy administration office, considering my options of how I could stay in Japan. Before I knew it, three months remained and I needed to decide on how I would be able to keep all of the personal items I had accumulated over the past three years. I brought most of my possessions to a friend's home, as I would transition out in Washington. During my last week in the Navy my eagerness to return to Japan helped me decide to contact the TUJ OSS, That was the start of the process of obtaining my student visa to return to where I wanted to call "home."
My time here at TUJ has been enjoyable. Bright-eyed and bushy-tailed, I started off my undergraduate career surrounded by mostly younger students, but would find comfort at the Veterans' Reception and Orientation where I was able to find a sense of comradery among other students who had served. Over time I would reach out and meet other students from all over the world and expanded this personal feeling of belonging to include the whole university. I believe that the foreign students are here in Japan because they want more than the environment they came from. Supported by the administrative staff and the accomplished roster of professors and adjunct professors, TUJ is a great community in which to learn.
For admissions questions...
Tel:

+81-3-5441-9800

Office Hours:

Weekdays 9:00-17:30 (Japan Time)

Email: