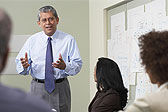 Employee Training
Temple University, Japan Campus (TUJ), provides employee training courses and program development services for corporations and organizations.
Corporate Education Program develops customized programs that meet the educational and training needs of corporations and organizations.
Continuing Education Program offers courses for individuals looking to develop their linguistic and professional skills. A discount program is available for those corporations and organizations who wish to send their employees to these courses.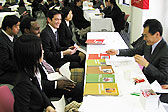 Hiring Our Students
TUJ's Career Development Office helps companies fill job openings through job placement, internship programs and career fairs.
Training Legal Professionals
Send your employees to study at TUJ's law school to strengthen your legal department.