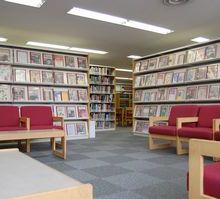 Visitors
The mission of the Temple University, Japan Campus (TUJ)  Library is to serve the students, faculty and staff of TUJ. However, we do make our resources available to researchers through interlibrary loan and prearranged visits. Special arrangements are available for Setagaya-ku residents.
Our policy points are as follows:
All visitors must first check in at the circulation desk when visiting the library. During your visit, you will be asked for registration information for our records (i.e. name, academic affiliation, picture ID, and e-mail address).

Subsequent visits to the TUJ library must be arranged through your academic institution library. Please ask your associated library to contact the TUJ library to arrange your visit.

Visitors may only access the in-house physical materials. No library cards will be issued, there will be no checkout of materials. Copy machines and printers are available but require a PASMO or Suica card for payment. Free scanners are available.
These restrictions do not apply to members of institutions with whom TUJ has made formal cooperative agreements.