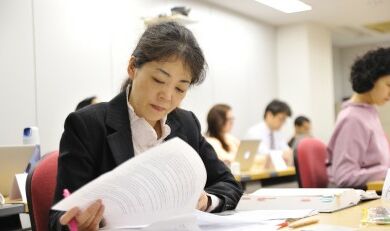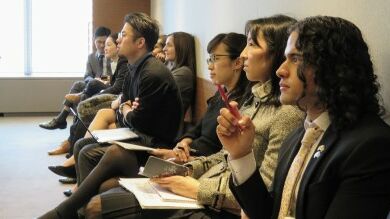 1.Earn an American LL.M. degree or law certificate without ever leaving Japan
You can complete all your LL.M. or certificate coursework in Japan while saving substantially on the cost of studying abroad. You can start your studies in any one of our three semesters. Our year-round, evening classes and occasional weekend classes allow you to keep working as you attend classes. You can finish an LL.M. degree in as few as nine months or take up to four years. You can finish a certificate in four months or take up to three years.
2.Learn in an interactive and collaborative classroom environment
In our classes, full-time professors and Tokyo-based international legal practitioners strive to create a collaborative and challenging atmosphere, simulating the real one in which lawyers practice. Our small class sizes permit frequent group exercises, during which you work closely with teachers and fellow students of all ages, backgrounds and nationalities. You learn by asking and answering questions, advocating, negotiating, solving problems together, and critiquing each other's writing. In this atmosphere, you learn to think and strategize as a lawyer trained in the common law.
3.Join a dynamic international network of legal professionals
As developments in the rapidly expanding areas of intellectual property, environmental law, cyber law, and project finance indicate, national borders no longer constrain the practice of law. Our alumni are adept at dealing with different legal systems and cultures. Joining the Temple Law community gives you access to an extensive, international alumni network in and outside Japan.
Other Benefits:
Take advantage of opportunities to study in Philadelphia, Rome, and Beijing
Pay only as you take each class
Use easy payment plans for each class
Possible U.S. Bar Exam Eligibility
To discuss possible eligibility for the bar exam in the limited number of states that currently permit foreign-educated lawyers to take their exam, please contact us.
Contact
Tel:  03-5441-9841
   (International: +81-3-5441-9841)
Office Hours:
   Monday - Friday 11:00-19:30
Email:  tujlaw@tuj.temple.edu