Start from an appropriate level
Students start from a level appropriate for their own English competency based on the results of the placement test. Although the study duration varies by student, students go on to either the Undergraduate Program or the Bridge Program, which is part of the undergraduate program, after three to nine months.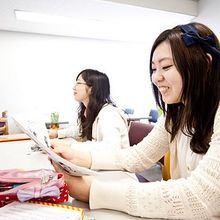 What is the Bridge Program?
The Bridge Program is designed for non-native English speakers whose TOEFL scores are between iBT 53-78 or PBT 475-549, but who meet all other Undergraduate admissions qualifications. It enables students to enter the Undergraduate Program on a conditional basis. Students take subjects recognized as credits at the same time as attending an academic skill course. Students are "matriculated (officially admitted)" to the TUJ Undergraduate Program if they fulfill all the necessary requirements.
For details, please see the Undergraduate Program website below.
Arrow-MediumAbout the Bridge Program (Conditional Admission)