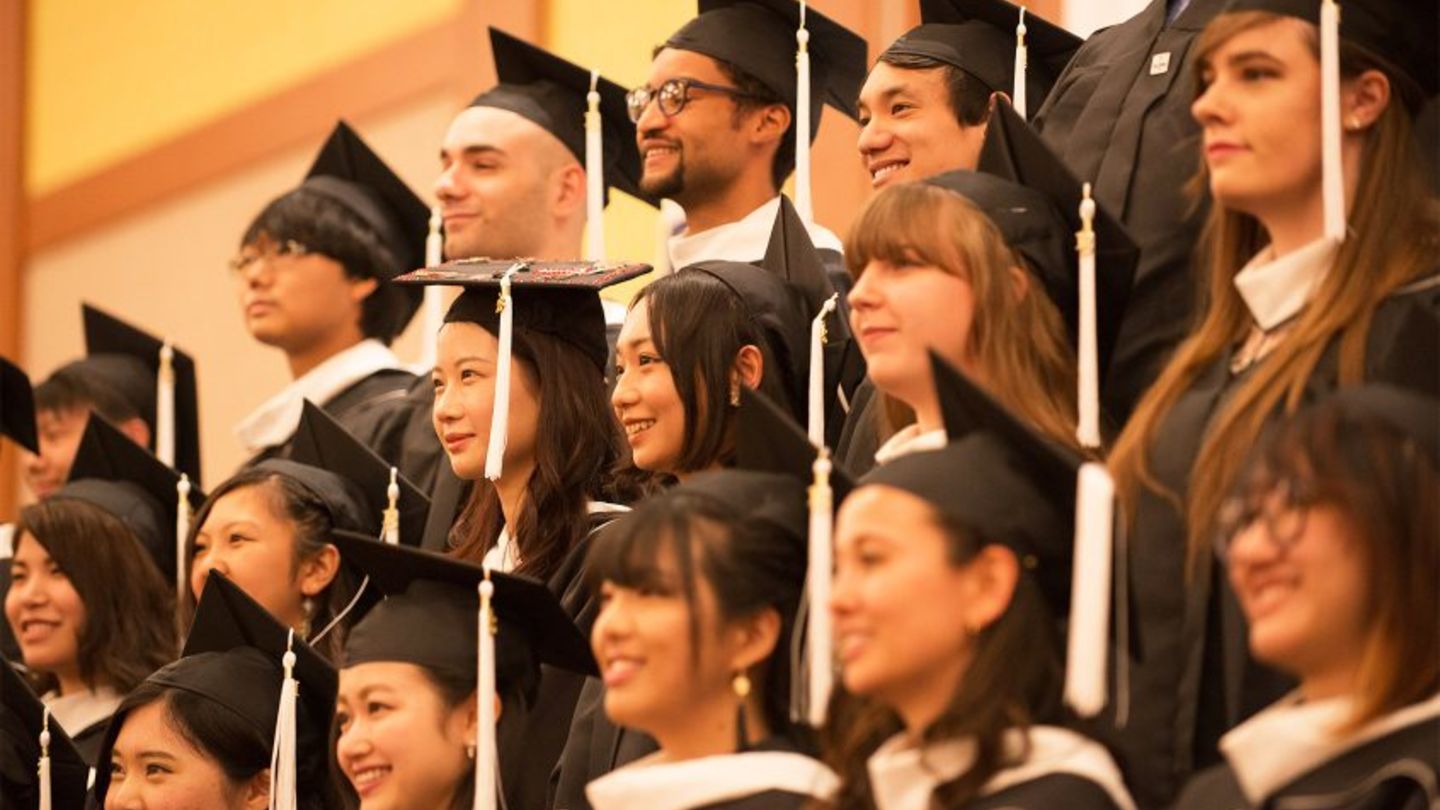 Temple University, Japan Campus (TUJ) held its 2018 commencement ceremony on Sunday, June 3 at the Shinagawa Prince Hotel, Tokyo. This commencement in Japan was attended by a Temple Main delegation headed by President Richard Englert, and included Mr. Michael Turner, Cultural Attache, U.S. Embassy Tokyo, amongst its honored guests.
The ceremony saw a record high graduating class of 319 from the undergraduate, master's and doctoral degree programs. Notably the undergraduate graduates in exceeded 200 for the first time, including over 150 non-Japanese graduates, also the largest component ever. These numbers reflected the increasing number of non-Japanese students enrolled since TUJ's designation as a Foreign University's Japan Campus by MEXT in 2005.
The TUJ ceremony was part of the 131st commencement of Temple University, which took place on May 10 at Main Campus in Philadelphia, Pennsylvania. (Temple graduates largest class in history​ New Tab) This year the commencement at Main Campus alone honored 10,030 graduates, the largest ever class, and the first time that a total of 10,000 had been surpassed. The graduates represented 96 countries, two U.S. territories (Puerto Rico and the U.S. Virgin Islands) and 48 states, plus Washington, D.C.
Total number of graduates in the TUJ Class of 2018: 319
Arrow-Medium Bachelor of Arts / Bachelor of Science / Bachelor of Business Administration: 230
Arrow-Medium Master of Laws: 24
Arrow-Medium Master of Business Administration: 18
Arrow-Medium Master of Science in Education: 34
Arrow-Medium Doctor of Education / Doctor of Philosophy: 13
At the ceremony, Mr. Turner of the U.S. Embassy Tokyo made a congratulatory speech, followed by keynote speaker, Chairman Patrick O'Connor, of the TU Board of Trustees. Chairman O'Connor expressed his heartfelt congratulations to the strong Class of 2018, while wishing them all the best in their future endeavors as they make their way in today's global society.
Two graduating student representatives, Yuki Kaito, B.A., from Tokyo and Julio Delacruz, MBA, from the U.S.A. delivered speeches on behalf of their fellow graduates in the undergraduate and graduate programs. They looked back at the different paths that had led them to graduation, and expressed their sincere appreciation to all of their classmates, family, friends, and faculty for their endless support and encouragement over the years. Full transcripts of the speeches are available here.
The event was broadcast live online, allowing friends and family around the world to tune in and share the experience with the graduates. The broadcast can be viewed here.
Founded in 1884, Temple University, is a comprehensive public research university, and ranked in the 351-400 group of the top world universities in Times Higher Education World University Rankings 2018.
TUJ celebrated its 35th anniversary here in Tokyo last year. As the only four-year American university in Japan, TUJ continues to be committed to fostering students to become professionally active as well as to striving to promote globalization of Japanese higher education. In fall 2019, all programs at TUJ will move to Sangen-jaya, Setagaya-Ward in Tokyo where Showa Women's University is located. The move is a part of the Super Global Campus project, the first of its kind in Japan, and will promote future US-Japan university collaboration.
Arrow-Large Graduation 2018 website
Arrow-Large Graduate 2018 speeches
Arrow-Large Graduation 2018 video