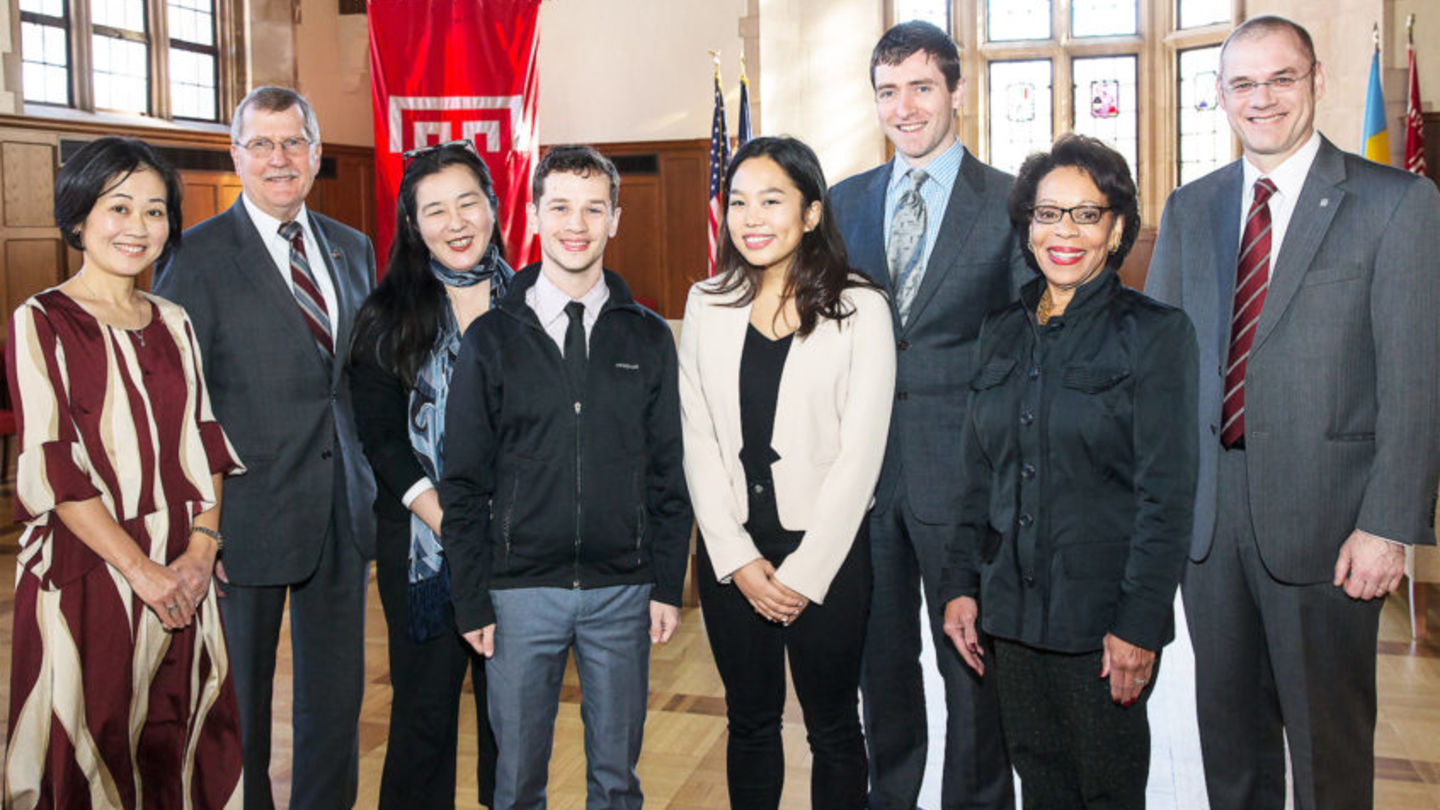 Temple University, Japan Campus (TUJ) sent a delegation of six to attend the 12th annual Global Temple Conference New Tab (or "Global Temple") held on Main Campus in Philadelphia on November 15. This was TUJ's first ever participation by multiple faculty and students together with accompanying staff. "We're especially proud in this 35th Anniversary Year to be represented at the Global Temple by two respected professors and two talented students," said TUJ Chief Academic Officer Alistair Howard. "It's been a great pleasure for our group of faculty, students and staff to meet President Englert and Provost Epps in historic Sullivan Hall."
The 12th annual Global Temple was a whole-day symposium showcasing "Temple in the World and the World at Temple." The conference featured papers, panel discussions, film screenings, performances, and poster presentations on a wide range of global topics by over 150 faculty, students and staff in the Temple community.
"Highlights of our trip were presentations by Hikari Hida and Jeffrey Mazziotta at the Global Temple," said Associate Professor Mariko Nagai, who moderated the TUJ student panel. "They represent the best of TUJ – high-level academic work delivered confidently, embodying diversity and multiculturalism, and international outlooks." Nagai herself presented "Occupied Bodies in Shizuko Suzuki's Haiku," touching on the Occupation period state-sanctioned prostitution portrayed in a series of haiku written by a forgotten Japanese female poet, Shizuko Suzuki.
Hikari Hida, a sophomore political science and Asian studies double major, presented "Forging Identity: Being Hafu in the Monoracial Japan," discussing the historical image of mixed-race Japanese and her own experience as a half Japanese woman. "I am so grateful to have gotten the opportunity to go to Main Campus and explore Philly for the very first time," said Hida, who was recommended by two professors as one of the two student presenters. "Highlights of the trip included…the warm response I received after my presentation that apparently resonated with a crowd that I wasn't sure would."
Presenting "Defending Freedom and Democracy: F.P.A. of the U.S. Escalation in Vietnam," Jeff Mazziotta, Class of 2017 (Political Science), shared his views and analyses on the implications of the war. The recent graduate was recommended for his award-winning capstone paper. "The opportunity to take part in the Global Temple was both rewarding and inspiring," said Mazziotta. "The meeting with the President and Provost was also particularly rewarding and it was a wonderful chance to nourish these important relationships."
"The trip exceeded my expectations in almost every way and was an experience I will cherish for a long time," he added.
In the faculty panel, Associate Professor James Brown presented "Russia's North Korea Policy: Facilitator of Belligerence or Contributor to Peace?," exploring his insights on the political behaviors of Russia, the U.S., and China towards North Korea. Brown echoed Nagai on the excellence of the two student presentations and added, "I also valued the opportunity to introduce myself to faculty at Main Campus."
With fruitful exchanges and successful participation by the delegation, CAO Howard concluded noting, "We look forward to next year."