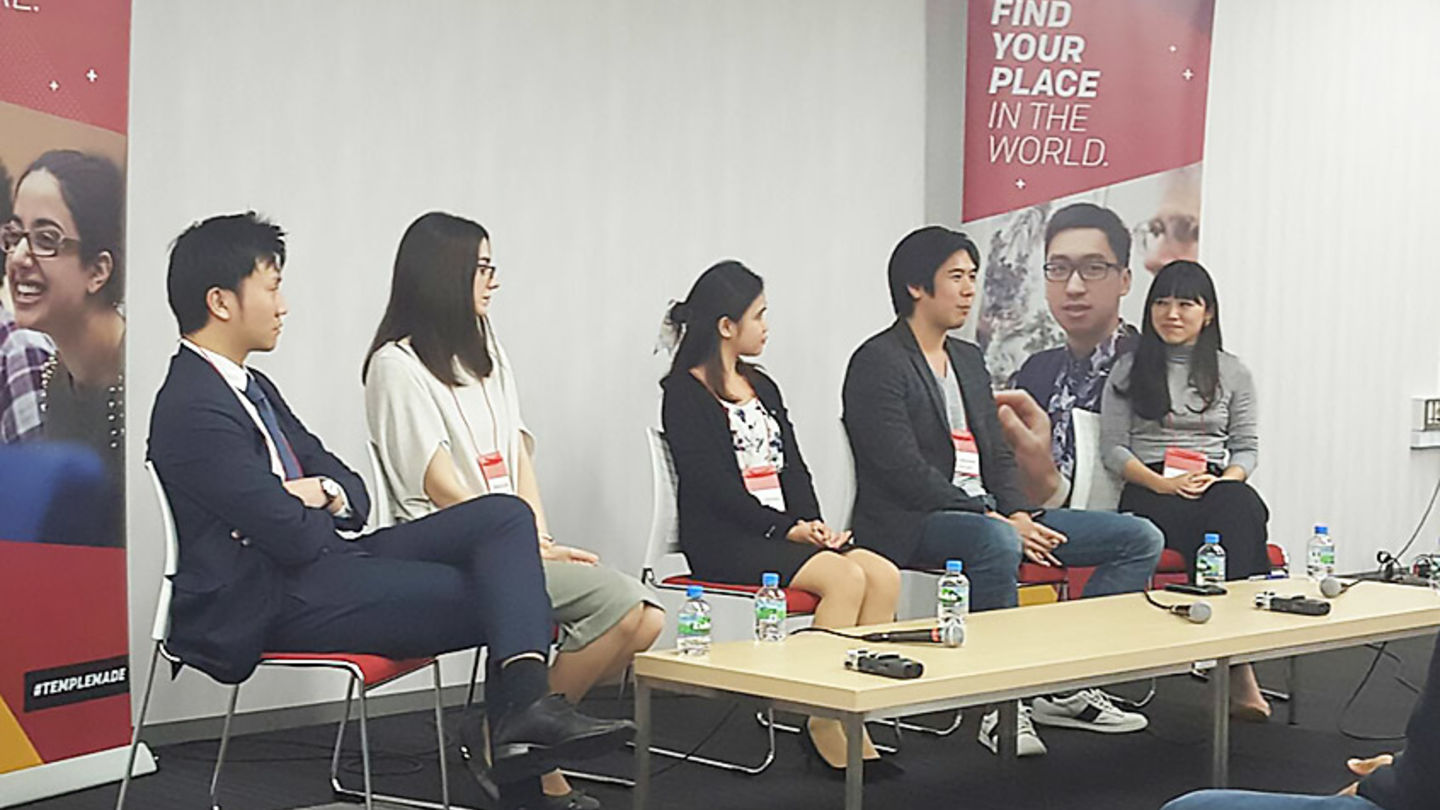 Pursuing a dream job can be one of the biggest challenges after graduation, and real voices of successful alumni encourage students as they head towards career building. The annual Life After TUJ event provides useful job hunting tips for students. Jada Davis, a junior journalism major and a study abroad student from Temple Main Campus, reports.
---
By Jada Davis, student writer
On October 18 I attended the Life After TUJ event where alumni discussed the success they've found in their careers since graduating from TUJ. I am interested in working in Japan, so it was nice to interview those who have found success in Japan or elsewhere.
The five alumni featured on the panel were Chelsea Clark (Asian Studies, 2013), Daiki Koyama (International Affairs, 2013), Yuka Miyata (Asian Studies, 2007), May Silvestre (International Business Studies, 2016), and Joel Tay (International Business Studies, 2014). International Business Studies (IBS) major student Mohamed Elwageeh moderated the event, in a departure from previous years where the moderator was a TUJ professor or business professional, according to IBS Director and event organizer William Swinton.
Each of the panelists has found success in Japan or elsewhere. Clark was able to integrate herself into the Japanese workforce as one of a few foreigners in Zeon Company. Tay went back to his home in Singapore and found work for a consulting company. He recently returned to Japan and now works for an M&A advisory company Frontier Management. Koyama started his own programming and game design business Steins Inc. after a few years at an IT firm in Tokyo.
This year students and panelists participated in a "speed networking." Students were split into small groups and for five minutes questioned one of the alumni. After the five minutes were up, groups rotated and continued. Several recent TUJ graduates participated as well. I gleaned a lot of useful information from them.
"Do as many internships as you can to help you find out what you want to do," said panelist Silvestre, who works at AIG. She emphasized the importance of making connections during internships and challenging yourself in multiple ways. She said do not limit yourself just because you are an intern but really test and challenge yourself. Internships also provide opportunities for undergraduates to see the kind of work, environment, and corporate culture that is a good fit for them.
"I would like to keep Steins to be a company that does not impose meaningless rules and each employee works in the most productive way," said Koyama who is the founder of Steins Inc. After working as a programmer at an IT venture company in Tokyo, Koyama launched four types of services in two years as a director in a mobile game business. Then, he started his own internet service company Steins, which now mainly specializes in online dating and mobile games. He believes that his company has continued to steadily grow as he took risks and kept challenging.
---
Jada Davis is a junior journalism major, a study abroad student from Temple University Main Campus. She is an avid reader and aspiring editor. In the U.S., she spends her free time running after her three Jack Russell Terriers, playing tennis, and working odd jobs.