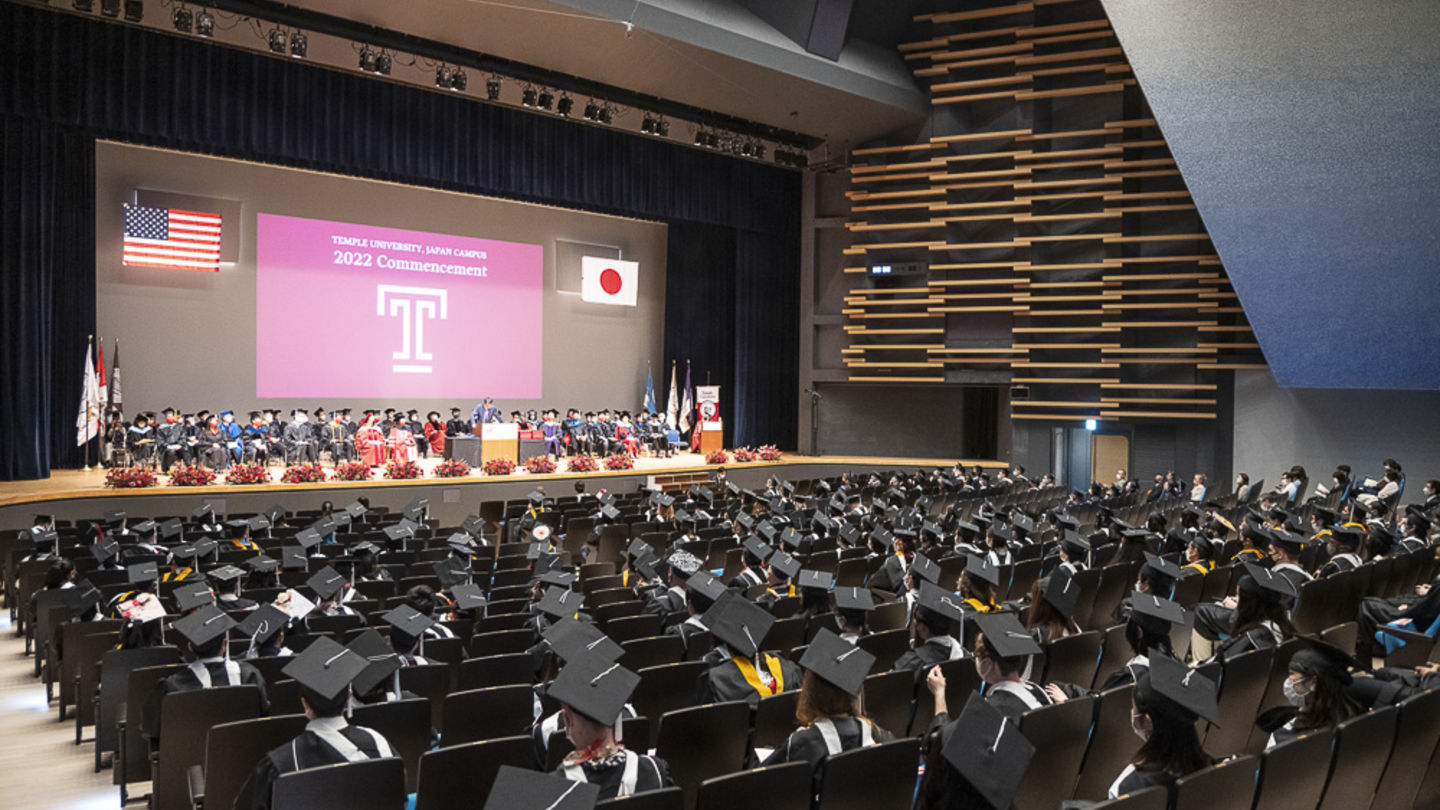 Updated: May 31, 2022
Temple University, Japan Campus (TUJ) conducted its commencement ceremony on May 20, 2022, as the university celebrates its 40th anniversary this year. The graduation was attended by more than 200 undergraduate and post-graduate students who received their degrees during the ceremony held at the Hitomi Memorial Hall of Showa Women's University in Tokyo.
Taro Kono, a veteran member of the House of Representatives, delivered the commencement's keynote address, congratulated the Class of 2022 on their achievements, and wished them well in all their future endeavors. U.S. Embassy Deputy Chief of Mission, Raymond F. Greene also addressed the graduating students at the ceremony.
TOTAL NUMBER OF GRADUATES IN THE TUJ CLASS OF 2022: 322
Arrow-Medium Associate of Arts: 3
Arrow-Medium Bachelor of Arts: 230
Arrow-Medium Bachelor of Science: 48
Arrow-Medium Doctor of Philosophy in Education: 3
Arrow-Medium Master of Science in Education: 17
Arrow-Medium Master of Laws: 13
Arrow-Medium Master in Management: 5
Arrow-Medium Master of Business Administration: 2
Arrow-Medium Master of Music Therapy: 1
A total of 206 undergraduate and post-graduate students attended the graduation ceremony. TUJ awarded a total of 322 undergraduate and graduate degrees to graduates of the Class of 2022, composed of 281 for the undergraduate program (bachelor of arts and science and associates of arts), and 41 for the graduate program (master's & doctorate degrees). Four students from Showa Women's University (SWU) received bachelor's degrees under the "Double Degree Program" for the first time. The program, which was introduced in 2018, enables SWU students to simultaneously earn American and Japanese university degrees.
Gregory N. Mandel, senior vice president and provost of Temple University's main campus, addressed a video message to celebrate the students. Two graduating student representatives, Toshimasa Hatori, bachelor of science in international business studies, and Steven Lim, master of science in education in TESOL spoke on behalf of their fellow graduates. In their speeches, they looked back on their journeys at the university and expressed their individual appreciation to those who had supplied their unwavering support as well as their optimism for the future. Full transcripts of the speeches are available on Graduation 2022.
The graduation ceremony was streamed live on the internet so that family and friends from all around the world could view it. The broadcast can also be viewed on the TUJ Youtube channel.