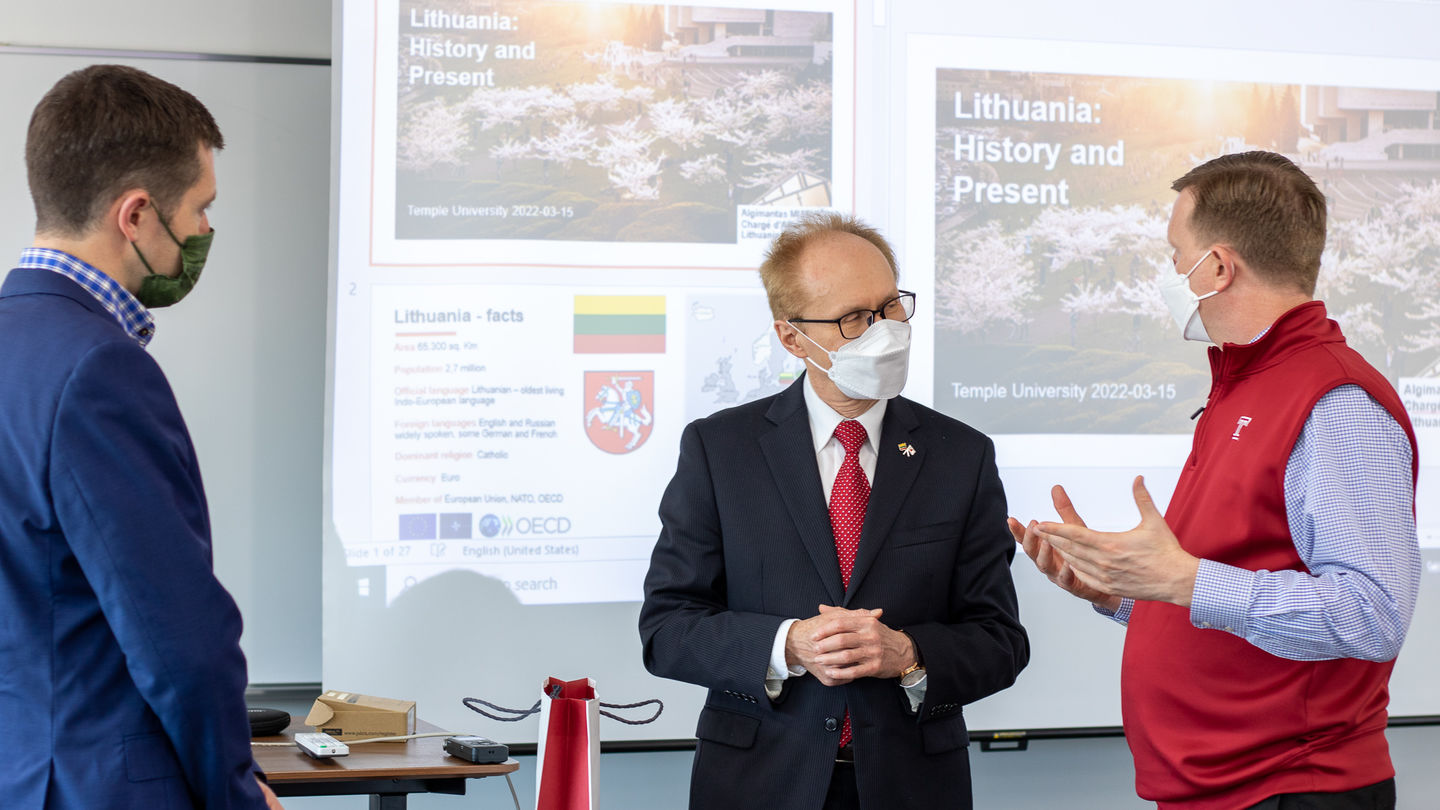 Undergraduate students studying political science got rare opportunities to attend lectures by the diplomats of Ukraine and Lithuania, who visited the Japan campus of Temple University (TUJ) in February and March as global geopolitical tensions in eastern Europe intensified amid Russia's invasion of Ukraine.
Charge d'affaires of the Lithuanian Embassy Algimantas Misevicius was invited as a guest speaker in Associate Professor James D. J. Brown's political science class on March 15 to give a lecture featuring the diplomatic relationship between Lithuania and Japan. He walked through the history of the country in detail and spoke on relations with Japan as this year marked the 100th anniversary of Japan formally recognized Lithuania in December 1922.
Separately, TUJ hosted Ukrainian Ambassador Extraordinary and Plenipotentiary Sergiy Korsunsky in Professor Brown's class on February 8. He gave an insightful presentation on the Ukraine-Russian situation and provided his views on potential developments. Ambassador Korsunsky's warnings proved prescient as Russia began its invasion of Ukraine just two weeks later.
"In political science classes, we talk about international politics every day," Brown said. "However, it's particularly beneficial for the students to hear from diplomats who are actually involved in the practice of international relations on a day-to-day basis. Given Russia's invasion of Ukraine, it was especially rewarding for the students to hear from diplomats who are from the region and who have first-hand experience of the issues involved. We hope to welcome more diplomats to TUJ in the near future."