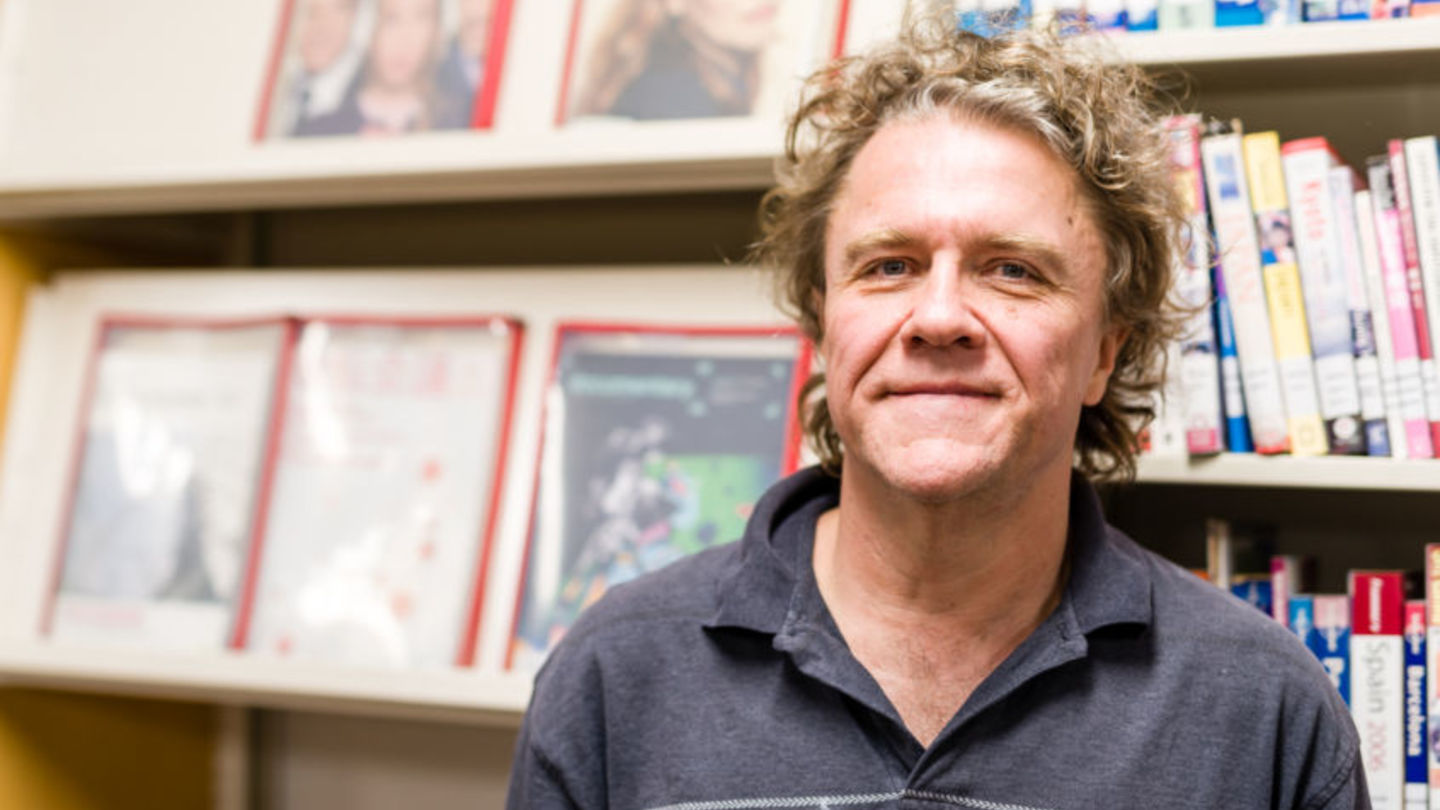 It all started about a quarter century ago when Associate Professor Ronald Carr, then a sports and news producer at the American Broadcasting Company in Los Angeles decided to go on his first international journey. "Why Japan?" He confessed that it was a happy accident. His friend from the Peace Corps was stationed in Thailand, and another friend had been working in Japan for several years already. A tentative offer from a Korean film director to adapt a book for a screenplay sealed the deal. "It sounded good," he says. In 1990 he arrived in Tokyo. Three years later Carr was invited to Temple University, Japan Campus (TUJ) to teach the first production classes and build a new program for students interested in media. In 1995 the university announced its new Communication Studies major.
In over two decades under Carr's supervision the program greatly expanded. Today, it features a variety of courses preparing students for jobs ranging from print and broadcast journalism to academic research. Foundation courses introduce major concepts in the theory of communications, discuss relationships between media and society, and develop research and analytical skills. Big emphasis is placed on cross-cultural aspects of communication and globalised environments.
Upper division classes develop skills and knowledge in students' preferred areas, for example film-making, writing and research. In order to provide up-to-date and comprehensive education the Communication Studies program regularly offers new courses. The most recent additions are music scoring and critical studies. For students with special interests, Carr recommends studying summer semesters when TUJ receives most of its visiting faculty from other universities and Temple Main Campus.
Since the 1990s, the program has offered internships in various media, including The Japan Times, the biggest English-language newspaper in Japan. Internships are not required, but "it is like the first job," says Carr. Internships introduce students to communication industry and broaden their job prospects. Media companies favor applicants with experience, especially international experience. Carr urges all his students to do at least one internship while in school.
Choose Your Own Path
Communication Studies major students can choose one of the two tracks: Contemporary Media Environments track and the Communication Studies Major of Distinction track.
The Contemporary Media Environments track focuses on communication technologies and their influence on public life and provides a lot of creative opportunities for media content production and building a portfolio. Students can specialise in journalism, film production, or theories of communication. Each direction is supported by a cluster of classes of different levels. David Cortez, a junior hoping to work in print journalism, praises journalistic case studies and opportunities to create his own content. "You can get your feet wet in writing the articles," he says. Feedback from instructors with backgrounds in journalism and peers helps him hone his craft.
The Major of Distinction track appeals to students who have specific interests and want to create a personalised interdisciplinary curriculum to meet their goals. Possible thesis projects include but are not limited to creating a documentary, conducting a journalistic investigation, and academic research.
Simulating Building a Company
Nothing is more important for media careers than first-hand experience. Students acquire it in the mandatory Sophomore Seminar class by creating companies developing, promoting, and distributing real products. For example, Fall 2016 projects included a TV series, English-language events for small children, and art exhibition management. All student companies must produce tangible results. Thus, a TV series group wrote a script for a pilot and shot a trailer for their project, an English-language events group organised a small party, and an art exhibition group showed artwork submitted by TUJ students. Each company is required to develop a promotional website.
Students also learn how to present their personal work and credentials to potential employers in effective ways. They collect materials for portfolios, create personal websites, and prepare résumés and cover letters. Carr recommends students use the Sophomore Seminar to build their professional presence online; it makes a huge difference when applying for jobs.
TUJ Student Film Festival
One of the crown jewels of the program is the TUJ Student Film Festival, an annual student-run showcase of the best work in the production track. The festival accepts short films from all TUJ students and recent graduates regardless of major. The organisation and promotion of this event are part of a course taught by Assistant Professor Karl Neubert. Students learn how to manage media events. They obtain, screen, and select entries, create subtitles (English or Japanese, or both with films in another language, depending on the original sound track), launch advertising campaign, find and invite guest judges, and secure a budget for monetary awards.
Managing the TUJ Film Festival is a time-consuming and challenging task. But it pays off in experience. Students build team-working skills, learn how to communicate with artists, create a diverse and comprehensive festival program, and work with the university administration and the Student Government. "This is a miniature of reality," Neubert says. Everything the students learn here will be very useful in their professional lives."
A Swiss Army Knife
Communication Studies major graduates have a universal skill set useful in many different areas: writing, public speaking, critical thinking, analysis and research. In addition, the program equips students with tools and skills essential for work in contemporary multimedia environments. At a time when even presidents tweet, this is a significant advantage.
Media careers are one of the frequent choices for communication majors. Yet they are far from the only option. Jason Williams, a senior at TUJ, is planning to apply for a government position. He believes that his experience in the U.S. Navy in combination with the Communication Studies degree will help him secure a job related to corporate writing or filming. "I feel like I am well-equipped to handle both," he says. Other career paths include but are not limited to advertising, public relations (PR), crisis management and politics. "Communication skills are crucial for any job," Carr says.
Arrow-Large Communication Studies Major
Arrow-Large Ronald Carr's Profile
Arrow-Large Karl Neubert's Profile
---
By Olga Garnova (Double major in Communication Studies and Art)