About the Future Sessions
The next session will be in spring, on February 20, 2022. See below for details and the application form.
"TUJ Kids College" is a unique program for 4th, 5th and 6th graders.
Participants experience "college" for a day by communicating with TUJ students while working on fun academic activities and projects.
Activities are done in groups with a few participants and 1 TUJ student. Groups are formed based on the level of each participant, which means this program can accommodate a wide range of students, from beginners to those who have studied overseas.
Although this is a one-day program, students will gain valuable experience having many English conversations with other participants and TUJ students. "TUJ Kids College" will give participants an international experience by allowing them to interact with American University students and by allowing them to practice English in a different way.
Take this opportunity to start learning English at an American University!
Details (Spring 2022)
Date:
Sunday, February 20, 2020
Time:

9:30-15:30

Location:
Temple University, Japan Campus (Access)
For:

Elementary School 4th, 5th, and 6th graders

Capacity:
40

(If application reaches full before the deadline, you can be on the waiting list)

Fee:
10,000 yen (Tax included)

*material fees are also included

Deadline:
Sunday, January 30, 2022.
Application:
Apply for this Course
Notes:
What to bring: lunch, pen and pencils (you are free to bring dictionary)
We cannot refund after the payment
Why You Should Consider TUJ Kids College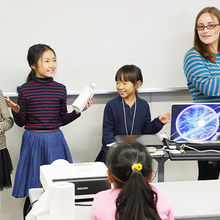 1. English Only
All activities are conducted in English only. TUJ students as well as TUJ instructors support the participants' learning. Including during lunch time, this program is full of opportunities to communicate in English.
2. Small Group System
In order to provide opportunities to communicate in English and deeper understanding of the learning contents, all activities are conducted in small groups. Each of the groups has 2-3 participants and 1 TUJ student.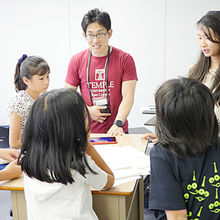 3. Interaction with TUJ Students
TUJ students stay with participants all day. Participants can enjoy many opportunities to interact with TUJ students only in English, including during lunch time and snack time.
4. Academic Experience
The lessons and activities are given in university-class style. Participants learn various things related to a topic through activities. They then summarize what they learn in sentences and drawings, and share these with other groups.
Schedule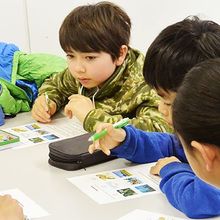 9:30 Group Organization
Groups are formed based on each participant's level through simple activities. After group forming, participants perform self-introductions to get to know others in groups.
10:00 Activity 1
Participants learn new vocabulary and expressions by visual aids (videos and pictures) through lectures. Visual aids help participants understand the content better.
12:00 Lunch
Participants have lunch together, while interacting with TUJ students.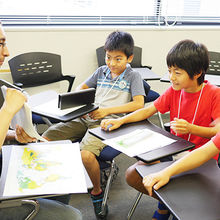 12:30 Activity 2
Each group picks a theme and studies it with a TUJ student. They summarize what they study in sentences and drawings.
14:30 Sharing with other groups
Participants share what participants summarized in Activity 2 with other groups in the class.
15:00 Snack time
It's time to relax after studying hard. Participants enjoy communicating with TUJ students in English while enjoying snacks and soft drinks.
Notes:
Photos are from the past TUJ Kids College.
The schedule is subject to change.
Application Form
Please fill out the information below and press "Send".
We will send you the payment information after you submit the application form.
Note: If you are having trouble completing this form, try opening the form in a new window New Tab.
Temple University, Japan Campus Academic English Program
1-14-29 Taishido, Setagaya-ku, Tokyo, Japan 154-0004 (Access)
E-mail:  esl@tuj.temple.edu

Tel:  0120-86-1026 (Toll Free) 03-5441-9863 (AEP)

Fax:  03-3452-3084

Hours:  Weekdays 9:00-17:30 (Japan Time)