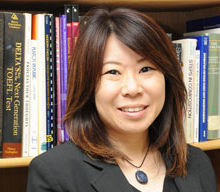 Emiko Mizunuma
Temple University, Japan Campus Academic English Program Director
You might feel that English is "something that anyone can learn." However, acquiring the level of English necessary for understanding lectures and taking notes at a university with native speakers, writing essays and research papers, engaging in debates, or working alongside native speakers is no easy task.
Anyone who wishes to be successful in the global environment in the future needs to bear in mind that, while certainly important, everyday conversation alone is not enough to succeed in the international community. If you want to play an active role in the international community, it is essential to understand the mindset of the people you are working with and to be able to view the world from the same perspective. It goes without saying that being able to use English as proficiently as a native speaker is the ideal to aspire to.
At Temple University, you can become proficient at both everyday and academic English without leaving Japan. AEP offers education which fosters both "English competency" and "global competency" for students who aim to become the global citizens of the future.
We at TUJ hope we can be of service to you all in making your dreams reality.